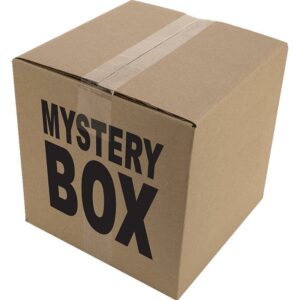 Purchase $40 Mystery Box here:
Each box cost just $40. Your box could include all different sorts of rocks, crystals, rough stone, towers, spheres, carving. Some stone types could be amethyst, rose quartz, crazy lace agate, moonstone, orthoceras, and so much more! You never know what you will find, that's half the fun! The box includes shipping for the box only, if you have other items to ship the week the box ships out, there may be an additional shipping charge. The box will be worth anywhere from $50-$80. Boxes need to be pre-paid and can be purchased right up until the live show. A few will also be available during the live, but will also need to be pre-paid before opened.
This month's box will ship out with the May 7 invoices. Your box will be opened live on May 3rd on Dewberry Lane Facebook page with Marc. We will be live on Wednesday, May 3, 2023, at 8 PM EST. It's his first solo show! If you are in the show live with us, you will have the chance to swap your box with another, similar to a White Elephant Exchange. If you are not in the show live with us, your box will ship out unopened so you can have the surprise in the comfort of your own home!